Article successfully added.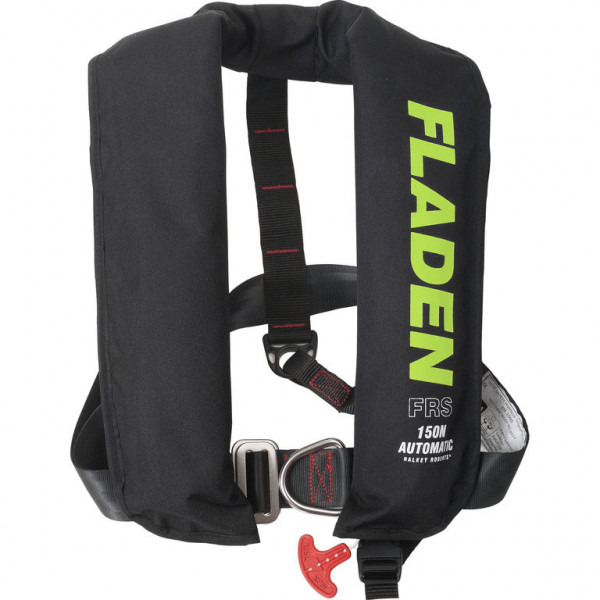 Flat automatic life jacket FRS 150N This lifejacket is certified for 150N...
more
Product information "Fladen Automatik-Schwimmweste FRS 150N"
Flat automatic life jacket FRS 150N
This lifejacket is certified for 150N buoyancy according to EN1095 / ISO12401. It opens automatically when the wearer falls into the water, but can also be triggered manually. It has a safety harness with a strong, non-magnetic stainless steel D-ring where a lifeline can be hooked in.
Please note that only lifejackets with 275N also provide fainting protection, as they keep the unconscious person's head safely above water, whereas vests with 150N do not automatically turn the unconscious person onto his back, so the head is out of the water.
General information about life jackets:
An inflatable lifejacket is a Personal Flotation Device (PFD) which creates buoyancy by means of a release mechanism with gas pressure cartridges.
A life jacket is constructed as follows:
The protective cover optimally protects the inflatable air chamber and extends the life of the life jacket.
Inflatable buoyancy chamber:
Single-chamber lifejacket - Buoyancy is achieved by a buoyancy chamber (minimum requirement according to EN/ISO).
Dual-chamber lifejacket - The buoyancy is achieved by two floats (minimum requirement according to IMO/SOLAS). The double-chamber system is designed in this way,
that in case of damage or failure of one chamber, the other chamber secures buoyancy while the user is in the water.
The trigger mechanism is required to activate and pierce the cartridge, allowing gas to enter the air chamber and inflate it.
Automatic release: The vest inflates automatically when touched with water. The air chamber inflates immediately. If this does not happen, which is very
is unlikely, the life jacket can be released manually with the pull rope.
Manual release: The manual release can be operated manually by the user by pulling the pull rope.
When the trigger mechanism is activated, it pierces the cartridge and releases the CO2 in the air chamber, allowing the float to inflate to the desired buoyancy class.
150N class life jackets have 33g or 38g

Class 275N life jackets have 60g
Read, write and discuss reviews...
more
Customer evaluation for "Fladen Automatik-Schwimmweste FRS 150N"
Write an evaluation
Evaluations will be activated after verification.